HRE at Local Renewables Conference 2018
ICLEI Europe, HRE Partner, is co-hosting the next Local Renewables Conference at Freiburg and Basel on 24-26 October 2018, with the focus placed on 'Urban Transformation to a circular economy'.
More information to follow. Register here.
HRE at the 4th #SES4DH Conference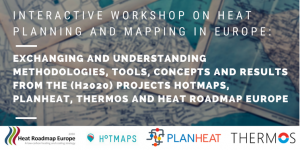 Along with its sister projects Hotmaps, Planheat and THERMOS, HRE is co-organising an 'Interactive workshop on heat planning and mapping in Europe – Exchanging and understanding methodologies, tools, concepts and results from the H2020 projects Hotmaps, Planheat, THERMOS and Heat Roadmap Europe', as side event to the conference, on 12 November 2018, 13.00-16.00 at Aalborg University, Aalborg, Denmark.
For registration and more information click here. 

Heat Roadmap Europe will be present and with new results at the 4th International Conference on Smart Energy Systems and 4th Generation District Heating, organised by the 4DH Research Centre and will be held on 13-14 November 2018, in Aalborg.
More information and registration here.